Exploring Southern Maine's many lighthouses has been a tourists' and locals' favorite pastime. It's an activity your whole family with love and a way to impress your significant other on date night. With so many lighthouses to choose from, it can be hard to narrow down your must-see sites. Many options are varying in distance from Beachmere Inn. Check out our top five favorite lighthouses to visit during your Southern Maine vacation.
Portland Head Light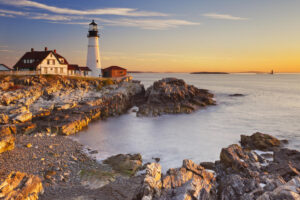 Cape Elizabeth is home to Portland Head Light, Maine's earliest lighthouse. In 1787, the Massachusetts Legislature provided $750 to begin building a lighthouse on the picturesque shores of Fort Williams Park. And in 1791, 16 whale-oil lamps lit up the Portland Head Light for the first time. At the time, it was used to house eight soldiers to warn citizens of potential British attacks. We've come a long way since then. Today, Portland Head Light is America's most photographed lighthouse. Fort Williams Park is open year-round from sunrise through sunset for visitors to enjoy. Some popular activities are hiking, picnicking, and photography.
Nubble Light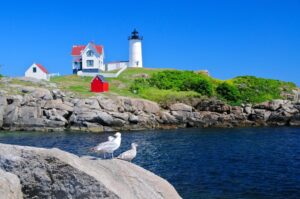 Once upon a time, mariner traffic was crucial to the area; although, the rocky coasts of Maine were very dangerous for the mariners and became wearing on their livelihood. In 1874, President Rutherford Hayes sanctioned $15,000 to build a lighthouse on this "Nub" of land. The beam was intended to protect the men and women out at sea. Eventually, our government deemed the lighthouse's service fit for our U.S. Coast Guard in 1939. After several name changes and ownership turnovers, the Nubble Light became what it is today! Now, tourists and locals alike flock to Nubble Light for the area's impressive scuba diving, exceptional photography, great fishing, and dog-friendly grounds.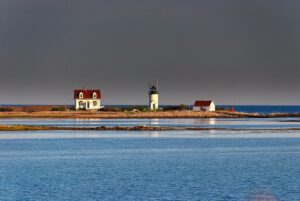 Goat Island Light
Goat Island Light has been a quintessential landmark in Cape Porpoise Harbor since 1833. It's weathered vicious storms, countless visitors, generations of keepers, and has even witnessed shipwrecks. Today you can enjoy the Goat Island Lighthouse from the landing at the end of Pier Road in Cape Porpoise. And if the lighthouse keepers are home, they're happy to give you a tour of the lighthouse tower. 
Whaleback Light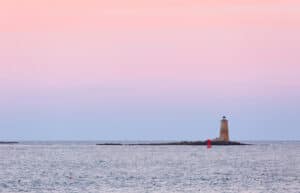 Whaleback Light is truly a light in the darkness. In 1829, Whaleback was poorly built by a contractor who cut many corners. The poor workmanship became evident when a wave hit the lighthouse; water seeped through the cracks and soaked the first lighthouse keeper. Many people wondered how the tower could possibly weather the storm. To their surprise, Whaleback Light endured forty impressive years. After many rebuilds, renovations, and new keepers, Whaleback Light remains to be a visitor favorite. On your way back to Beachmere Inn, consider swinging by the outlets!
Bug Light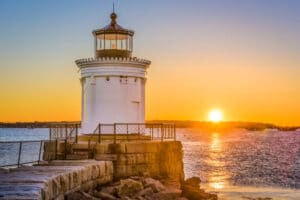 The Bug Light is the furthest lighthouse away from Ogunquit on our list, but the drive is well worth it. Bug Light is formally known as Portland Breakwater Light but earned its nickname for its small size. Built in 1855 but replaced in 1875, The Bug Light served to mark the end of rocky waters. The Bug Light Park offers impressive views of Portland Harbor and the skyline of Maine's largest city. Visitors enjoy the area by walking along the waterside or flying a kite. You'll also notice the shining white light that the tower flashes every four seconds to welcome guests to South Portland and historic Portland Harbor. 
Now that you know Beachmere Inn's favorite lighthouses to visit in Southern Maine, there's only one thing left to do; pack your bag and head out the door! Lighthouses are a significant part of our culture; so you can't leave without visiting a lighthouse or two. To learn more about booking your dream Southern Maine vacation, head to Beachmere Inn's website or talk to our friendly staff at 800-336-3983.