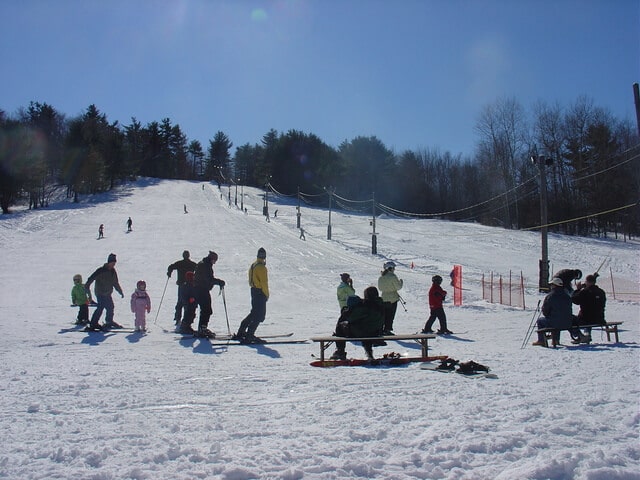 Planning a Maine family vacation is an exciting experience that all of your loved ones can enjoy, no matter their age. There are several things to do in Ogunquit, Maine, this winter, that are kid-friendly activities such as skiing, snowboarding, tubing, and more! While everybody has their own interests and budget, our team here at Beachmere Inn is confident that your Maine family vacation this winter will be one for the books. If you're traveling with young children this year, learn about our favorite winter sports for kids. 
Powder House Hill
Located in South Berwick, Powder House Hill is about 30 minutes away from Beachmere Inn. Powder House Hill earned its name from the historic gunpowder storage facility that once sat on Butler's Hill. Today, Powder House Hill boasts three trails, an old-style rope tow, and a 175-foot vertical drop! Two ski hills are intermediate difficulty, and one hill is beginner level. There is also one massive size sledding only area. Powder House Hill doesn't produce artificial snow, so they rely on mother nature to provide a snowy winter season for your Maine family vacation. 
Mount Agamenticus
For a winter sports haven located a little closer to Beachmere Inn, check out Mount Agamenticus. Visitors and locals alike love Mount Agamenticus for its low, relaxing slopes. Mount Agamenticus is located in the ideal spot to catch breathtaking views of Acadia National Park and the New Jersey Pine Barrons. Each trial is specified for a single winter sport, so the slopes stay in excellent condition. Pay attention to the sign before skiing so we can keep Mount Agamenticus beautiful for many winters to come! 
Harris Farm
Harris Farm's 600-acre property is best known for its groomed and track-set trails which are ideal for visitors looking to go cross country skiing. The resort also has gorgeous slopes ranging in difficulty, so no matter your skillset, there's a slope for you to enjoy. Harris Farm also provides on-site snowshoe and fat bike rentals for you to try. One of the best winter sports for kids at Harris Farm is their rentable pulk sleds. To use, strap your child, on skis, in the pulk sled. Then you can pull them around on the sled for a skiing simulation! It's an exciting memory for your children and an excellent workout for the parents! Harris Farm is located about one hour away from Beachmere Inn, so plan your trip accordingly.  
Family Vacation in Ogunquin, Maine
The winter sports for kids we listed above are just a few activities for you to try on your Maine family vacation. We have several more kid-friendly activities where those came from! To get started on planning your Ogunquit, Maine, family vacation, visit Beachmere Inn's website or give us a call at 800-336-3983.